Department of Orthopaedics,
Faculty of Medicine
Established in 1990, Department of Orthopaedics, Faculty of Medicine, Thammasat University has been evolved along with the growth of our faculty of Medicine and Thammasat Chalermprakiat Hospital. Over 30 years of Orthopaedic services, the intensive academic program, research studies, and innovations have been developed to improve patient cares and educations for medical students, residents and fellows. The department has been acclaimed in highly productive research works. Many studies in all subspecialties were published in high-ranked, standard journals. Besides, the new and advanced surgical techniques and Orthopaedic innovations have been initiated continuously. The department has been acknowledged as one of the widely distinguished Orthopaedic institution.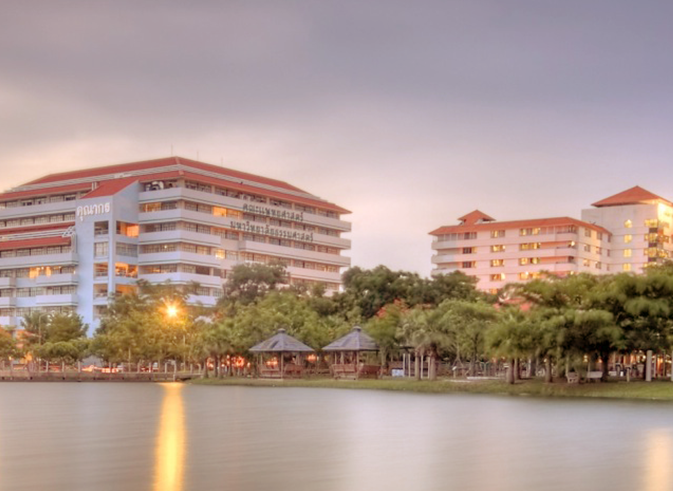 Thammasat Orthopaedics Emblem
Established in 2008, this emblem has been designed to present the Traditional "Tree"symbol of Orthopaedics, including the Bony figures. The step-up Bony figure means the evolution and growth. Also, This figure represents Thammasat "Dome"symbol in red and yellow colors, which simulate the pencil writing over the sky, to demonstrate the acknowledgement.
Vision and Mission Statements
Department of Orthopaedics, Faculty of Medicine, Thammasat University
Vision
Our department pursues to be an international leader in advancing education, research, medical services and organization management.
Mission 1: Education
Develop qualified Orthopaedic Surgeons who have ethical behavior and good willingness, with good manners and attitude toward patients by upholding the benefit of mankind. Be able to provide proper care for patients with injuries and other orthopaedics diseases and continuously improve oneself.
Mission 2: Research
Produce orthopaedic-related researches and innovations with international quality standards. Initiate new standard solutions for any injury and orthopaedics diseases which is not only acceptable in Thailand, but globally.
Mission 3: Medical services
Provides a global standard in orthopaedic services including treatment and health promotions for the community. Sharing essential medical knowledge to maintain, promote, rehabilitate and achieve health improvements in the community. The department aims to create orthopaedic surgeons with academic excellence and a commitment for lifelong learning.
Mission 4: Smart Organization Management
Our Orthopaedic institution is constantly evolving and has elevated our standards in terms of high performance. Our training institution is sustainable, self-reliant, and is highly recognized as a leading organization both nationally and internationally.
Mission for Residency Training Program
The Department of Orthopaedics, Faculty of Medicine, Thammasat University provides its residency training program in conjunction to criteria set by The Royal College of Orthopaedic Surgeons of Thailand. Our curriculum has the following mission at heart:
To produce qualified and diligent orthopaedic surgeons with resilience and adaptability to today's changing world.
To produce orthopaedic surgeons with theoretical and practical knowledge in accordance with the standards of the Royal College of Orthopedics of Thailand.
To effectively conduct research and reproduce innovation in the orthopaedics field, as well as aspire to novel practices in the both the field of trauma and diseases, accredited by international institutes according to global standards.
To provide academically sound and holistically contemplated services in patient care with goals of international accreditation.
To root personal skills in academics and interpersonal skills in professionalism.
To support the preservation of arts and culture.